It is ideal to use on the entire garden including vegetable gardens and will assist in water and nutrient retention as well as in the suppression of weeds.
Mulch can reduce water evaporation when used as directed, under normal weather conditions.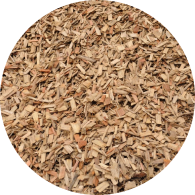 A by-product of the timber industry, this fine, shredded Eucalyptus mulch perfect for native and all general landscape gardens. It is a fine decorative garden mulch that retains moisture and reduces weeds.